New NFTrax Wheels by Lindsay Create a Big Stir around Koviak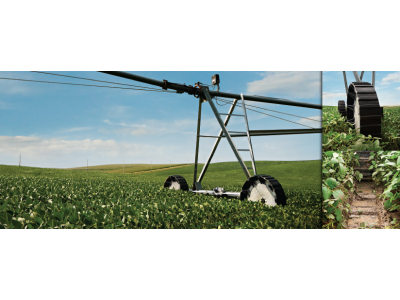 Lindsay, the makers of Zimmatic center pivot irrigation systems, has come up with a new solution by coming up with an airless, and for that matter, tireless wheel. The new NFTrax wheel is a revolutionary design for mechanized irrigation that combines pneumatic properties with an open design and track concept. The result is highly improved traction, consistent operation and limited downtime. The staff here at Koviak finds the new wheel is a significant improvement over any other alternative on the market.
NFTrax has a steel-rim center. A heavy-duty vulcanized rubber belt that includes a steel cable core is wrapped over the wheel's 10 drive points to provide ideal weight distribution, flexibility and traction in the field. Rather than leaving deep ruts, the NFTrax adapts readily to terrain and moves smoothly over field obstructions without getting stuck as regular tires would as they dig deeper into the soil. The NFTrax's even distribution of weight across the entire belt's surface means it doesn't dig a deep channel for water to collect.
Watch the video to see how the NFTrax operations. Then give us a call at Koviak to find out more on how NFTrax wheels can improve the operations of your irrigation system.