Irrigation Helps Global Food Processor Double Crop Peas and Sweet Corn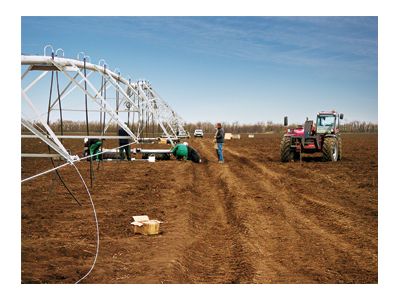 Lindsay pivots, laterals and hose reel irrigation systems are helping one of the world's largest vegetable growers and processors increase yields, quality and profitability in the heart of Russia's most productive agricultural region.

The large, modern Lindsay irrigation system is located on the Rogovskaya farm in the Krasnodar region of southern Russia, which is managed by one of the world's largest food processors – the Bonduelle Group.

Because of the mild climate and abundant water supply in the Krasnodar region of southern Russia, the farm managers are able to "double- crop" peas with sweet corn, and also provide a reliable, steady supply of raw materials for Bonduelle's vegetable processing facility located in nearby Timashevsk, Russia.

Today, approximately 5,683 acres (2,300 hectares) of green peas, sweet corn and sugar beets are irrigated by the following Lindsay products:
14 Omega pivoting laterals
3 standard laterals
16 center pivots
2 Perrot® by Linsday hose reels
Zimmatic by Lindsay BASIC control panels
"In designing and planning the Lindsay system at the farm, it
was important that the irrigation complement and provide for a strict crop seeding and delivery plan," says Damien Cochelin, Lindsay Russia regional manager.

"It was crucial to match harvest
and delivery of the peas and sweet corn as closely as possible to the demands and schedules of the processing facility. The Lindsay irrigation system was designed to allow Bonduelle to
do that and to process more of the crops locally, which increases the processing facility's efficiency and ultimately – profitability."

Green Peas

Without irrigation, green peas needed to be planted at the Rogovskaya farm between early March and the end
of April. This also meant the peas needed to be harvested June 1 through June 25.

Now, with irrigation and careful planning, the peas can be planted through May 10 and the total harvest season extended an additional 10 days. This allows the processing plant to extend the pea canning process by an additional 10 days as well.

Sweet Corn

With irrigation, the sweet corn
can be planted after the peas are harvested, resulting in a profitable double-cropping system. Irrigation is used to help the crop emerge and to survive hot, dry spells in the region. It also increases sweet corn quality and moisture content.

Damien says: "Irrigation allows for good planning so the farm managers can harvest and deliver so much sweet corn per day to the processing plant. This helps tremendously in scheduling delivery of the product and better matches vegetable processing capacity to supply."

Sugar Beets

In addition to peas and sweet
corn, sugar beets are grown at the Rogovskaya farm. Sugar from the beets is used in the vegetable processing and canning operation while the rest of the sugar beets are sold as a commodity.

Lindsay irrigation has resulted in
a substantial increase in sugar beet yields, in some cases up to double the dryland yields.

Increased Yields

By almost any measurement, Lindsay irrigation products have increased yields, quality and efficiency at the Rogovskaya farm (see bonus "ROI Summary" below).

However, perhaps the biggest benefit is the ability to double
crop the peas and sweet corn and to better match crop supply with crop demand at the Bonduelle factory in nearby Timachevsk.

"Thanks to the Lindsay irrigation system, the farm is now able to better time planting and harvesting and crop delivery schedules," Cochelin says. "The farm is able to double-crop the peas and sweet corn, and able to provide much more and better quality crops to the Bonduelle processing facility."

ROI Summary
Green pea crop yields increased from 1.79 tons/acre (4 metric tons per hectare) to 3.26 tons/acre (7.3 metric tons per hectare)
Sweet corn yields average 7.59 tons/ acre (17 metric tons per hectare)
Sugar beet yields increased from 22.32 tons/acre (50 metric tons per hectare) to 35.71 tons/acre (80 metric tons per hectare)
Vegetable crop supply and delivery more closely matches processing facility capacity and demand
Source: http://www.zimmatic.com/irrigation-helps-global-food-processor-double-cr...